Skip to Main Content
Welcome
Welcome to the PMAT012 Preparatory Algebra II Course Guide
The PMAT012 Preparatory Algebra II Course Guide provides pointers for getting started with your research. It includes links to library subscription resources, including article databases, journals and books, as well as open authoritative web content. If you would like additional help with your Mathematics research projects, or on learning how to use Library resources, don't hesitate to email the Library.
If you are interested in learning more about the Mathematics courses in Alfaisal University, please check the College of Science or Alfaisal University websites to learn more about degrees offered by the College and the University.
General Federated Search

PMAT012 Preparatory Algebra II News Headlines
Featured Video
BLOSSOMS - The Quadratic Equation: It's Hip to Be Squared
Summary: This lesson aims to help students with quadratic functions y = ax2 + bx + c. This is the next step after linear functions bx + c. The lesson begins with three quadratics and their graphs (three parabolas): y = x2 - 2x + (0 or 1 or 2). The prerequisite or co-requisite for this lesson is some working experience with algebra, like factoring x2 -2x into x(x-2).
Acting Dean, College of Science & General Studies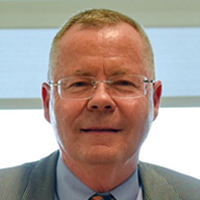 Mattheus (Theo) F. A. Goosen, Ph.D.
Acting Dean, College of Science & General Studies & Professor of Material Science
Copyright © 2016 Alfaisal University Library. All Rights Reserved.
Tel: +966 1 2158948 Fax: +966 1 2157845 Email:
librarian@alfaisal.edu