Skip to Main Content
It looks like you're using Internet Explorer 11 or older. This website works best with modern browsers such as the latest versions of Chrome, Firefox, Safari, and Edge. If you continue with this browser, you may see unexpected results.
Importing Citations
Under the tab "format" on the endnote web site click on "Cite While You Write™ Plug-In" to download the integration app with MS word
Then select the Plug-In that match your operating system
Mac
For MAC users: if you face an error after installing the plug-in follow the below steps:-
Go to Microsoft Word and select Tools > Templates and Add-Ins…
Then make sure that the Endnote Web CWYW Commands.dot and Endnote CWYW Word 2011.bundle are checked: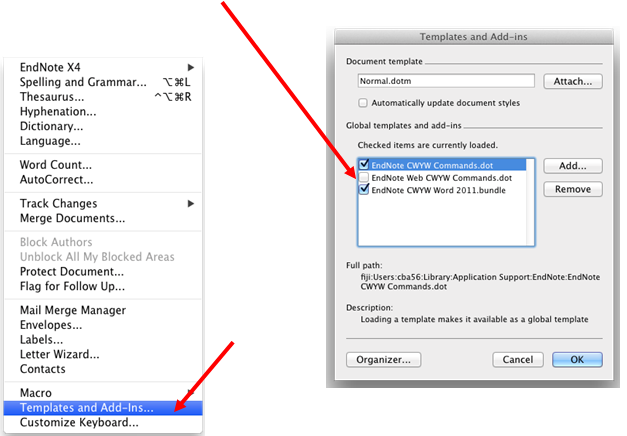 Copyright © 2016 Alfaisal University Library. All Rights Reserved.
Tel: +966 1 2158948 Fax: +966 1 2157845 Email:
librarian@alfaisal.edu